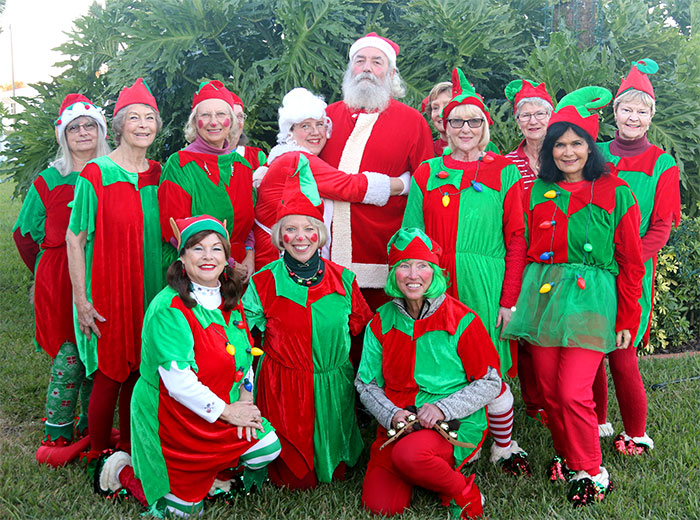 The Sebring Village Elves joined Mr. and Mrs. Claus to greet visitors to the park during the annual luminary display.. Click or tap the photo for more photos. (Photo by Mike Corradino)
---
Walt D'Alessandris bids farewell at annual members' dinner at Homer's
Sebring Village Association members filled Homer's Smorgasbord in early December for the group's annual dinner. In a departure from past such events, the board chose to hold the dinner at the local restaurant. Click or tap the photo to see the story and photos.
---
JULIETS hold December luncheon
at the Caddyshack Restaurant
The JULIET's Christmas Lunch was held at the Caddyshack Restaurant, with 55 ladies in attendance. We welcomed for the very first time, JoAnn Briglia, Arlene Chapman, Claudia Higgins, Anita Hitchcock and Kim Roebuck. Click/tap the photo for the story.
---
Writers amd photographers wanted
The Sebring Village Tablet needs your help. We need additional occasional writers and photographers to report on what's happening each month and to write features about our residents. A camera phone will do. First rule…it has to be fun. Give me a call at 352-536-4732 or email me at
mike@towntablet.com
.
---
Village Community Mailbox
will get free mail to residents
Laney Powers has set up a new mailbox system in the library room of the Sebring Village Clubhouse. The postage free system will help improve communications and "holiday spirit" in the Village starting immediately . Click or tap the photo for details.
---
The photo albums and files
from previous months have moved
All the photos from previous events are still here. To make way for an updated design we have move them to our Archives section. To view the files and photos, simply click or tap on the photo to the left or on this paragraph and you will jump to the appropriate page. Thanks for bearing with us as we make our design changes.
---
Buying or selling? The Tablet is offering free classifieds for our park
Have something you'd like to sell? Is there something you're hoping another resident wants to get rid of? The Tablet is offering free classifieds to all our park residents. After all...isn't one person's trash another person's treasure. Click/tap the box to list your item(s).
---